I'm sitting her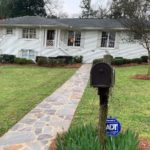 e on a lazy hot Sunday afternoon. The kids have gone to Florida, and Gary has gone to the cabin. I'm alone at 1227 Burns Drive. I have lived here longer than anywhere else I have ever lived, and I'm surrounded by the hum of my past. I have changed the color of the walls… inside and out. Door ways were widened, kitchen remodeled, chairs recovered, and couches replaced. My Mother's furniture was offered to my children and their bedrooms are now offered as guest rooms. It has evolved. I would like to say that every moment, and every memory were wonderful and my only reflections of this house were warm and fuzzy, but that is not true. Many hearts were broken here. There were stormy days… unstableness and fearful circumstances, terrifying and anxious times of illness. But our home, like us, grew to be patient, stronger and wiser. 1227 has grown old with me and I know it has loved me.
I have felt safe here. And that is what a home if for.
Although I'm not so big on entertaining, the sliding glass door, the refrigerator door, and the constant sneaking in and out of the basement door have been persistent. The neighborhood kids, friends, Mot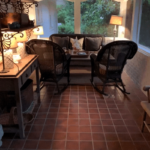 her in laws, and plausibly the two robbers have seemed comfortable to come and go as they please with or without permission! Our gold fish, hamsters, kittens, and puppies have pooped, peed, and thrown up in every room as frequently as my kids. My porch has served me well. Under the spell of the wine that has been drunk there I have drowned myself in tears and I have laughed until I cried…curled up in the corner of my wicker sofa in the dim light of the street lamps until midnight. The conversations will remain on the walls forever as they should.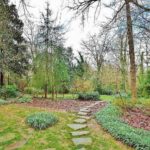 Now it is time to go. We are walking away in a few days. I will be sad but I have been told that my new home will wrap it's arms around me the minute I walk into it's door….and I believe that with all of my heart…or I would not leave. After all….we have a walk in shower, a "master" and a laundry room on the "main" and only level! By the 4th of July I will be drinking my chardonnay and celebrating my new home and new beginnings on top of the hill…in a perfectly manicured back yard landscaped like a romantic fairy tail! We are so thankful for here, and ready to be "moving on" to there. It's a back breaking task, but we will lay our weary heads down at 1667 Valley Road feeling grateful. We are home.
At Last!