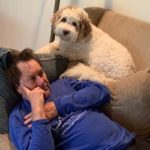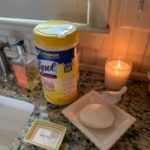 I just did the most adult thing I have ever done in my whole adult life. I declined a girl trip. Me…"Adulting"! It sucks! After the 7th grade, my brain went on a reprieve, so saying no to a slumber party at my sister's beach house in the Sunshine State hurts as much as saying yes to a crowded hot yoga class. (HA! Like I would go to yoga class…) Do you remember the good ol days? It seems like centuries ago we were having lunch with friends, traveling in large groups, and hugging a child. I miss my grands and my gals…this is painful.
So now that I have ALL the time in the world to stay home and write about the bags of potato chips I'm consuming, the movies I'm renting, and the amount of Chardonnay I'm putting away I want to tell you a true story.
When Gary and I walk the neighborhood we typically choose to walk down one of the quietest streets in Gainesville called Valley Road. Often you will see a family of curious deer staring you square in the eye, groundhogs peaking out from their homes, and more squirrels and chipmunks scurrying up tree trunks than you could count! This winding road with tall oaks, dogwoods, and rows of magnolias will take you to Riverside Drive where you see the neighbors checking their mailboxes, blowing leaves, or reading newspapers on the front porches. A God bless the USA kinda street. Walkers, runners, bikers…and dimes. Earlier this week when we were strolling down this path of ours I noticed Gary lagging far behind so I turned to see why. I find him crouching in slow motion (taking more time than he would like for me to tell) picking something up off the street. I said in my what the hell are you doing wife voice, "What in the hell are you doing?" As he (in slow motion) un-crouches, sheepishly smiles and quickly sneaks this prize into his pants pocket announcing …A DIME! With far too much pride!
Of course, my response is "REALLY GARY? You need to pick that filthy coin up off this filthy street with all that is going on in the world right now?" "REALLY?" I muttered a little longer under my breath but loud enough for him to hear…"You NEED that dime…come on?" (and maybe, just maybe…I wouldn't let it go)
By now we are finally getting closer to home when a fit and youthful jogger trotting down the opposite side of the road passes us by… holds up his hand high as though he is sending the old folks a high five or a friendly hello and shouts with a gregarious grin, "SOCIAL DISTANCING!!!"
and Gary said, "I wish I had a dime for every time I have heard that!"