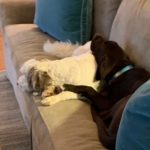 This peculiar thing/feeling happens every time. I know it's coming but it takes me by surprise every single time. It just happened again today… Keep reading.
I look forward to my kids coming home. Don't laugh, honestly…I do. (And this always means Neil, Margaret, and the girls will be dropping by more than usual as well.) I do the "normal" things you know, like everyone else with "adult" kids. I go to Publix a gazillion times. I pick up pretty flowers. I make sure there are clean sheets on the beds and clean towels in the bathroom. I put a fresh roll of toilet paper on the spindle and I buy a lot of fancy red wine. I wash my hair, shave my legs, and wait for their arrival. I am the happiest when all my kids are in the same room as me.
This year our Christmas had one of those unexpected turns. Well, for Graham and Mercy anyway.
Let me start by taking a few steps back… this young girl came into my son's life several years ago. Mercy, my now beautiful daughter in law, moved from her country in Micronesia to Georgia, to be with my son. She left her Aunts, Uncles, her cousins, a brother, and her Mother. She was happy and her mother, Terry, was happy for her. As a Mom having children 5 hours away from me…(door to door), I get it, but geographically nobody could possibly be living farther apart than Mercy and her Mom. And that alone is unimaginable. Graham and Mercy got a phone call on Dec. 21st and jumped on a plane to Yap (where Mercy is from) on Dec. 23rd. Mercy made it in time to see her Mother smile once more and said goodbye to her forever on Dec. 28th. Mercy is 24. Too young to lose her Mom.
Back here…Gary and I stayed home on Christmas Day with EmmyLou and Georgie. (happy to do so…kinda) Georgie is Graham and Mercy's 4-month-old pup. (I mentioned in my last blog)  And although Georgie could not be ANY cuter, sweeter, or easier…keeping TWO dogs fed three times a day, TWO dogs "potty trained" multiple times a day, and taking TWO dogs for long walks in the woods about did us in! Yet…in the meantime…EmmyLou (our little doodle) fell hopelessly and madly in love.  The feeling was mutual. Those black and white paws were constantly entangled! Growls of nipping at noses and biting at ears and the spontaneous games of tug of war and hide and seek were unstoppable. Finally, loud grunts of exhaustion …it is the end of the day (6:00 pm to be exact… "happy hour" for a whole new reason)  and the cuteness transcended upon us as these creatures spooned into their resting place and were breathing simultaneously, and peace was ever-present. Our job was done…until 6:00 am that is.
Graham and Mercy landed in Atlanta and drove here last night. I was so happy to see them. They have had days of no rest. They were tired, as you can imagine! Neil, Margaret, and the girls came by of course. We had dinner and talked for a while about the traditions of the Yapese culture. Her mother's special service. We talked about Mercy's family and Mercy's Mom. How EVERYONE was there to help. How everyone in her village loved and respected her Mom and like Mercy, how she gave to others and expected nothing in return. Friends and relatives gave their money, their time, and their love for Mercy. And I'm glad she had Graham by her side. A few hours ago they got in their car and were gone again… back to Savannah with sweet Georgie.
The feeling came immediately. Like I said…it never fails. I'm missing them before they get out of sight. The quietness is too sudden. I want someone to yell MOM!! I want to yell WHAT?? I want to hear children and adults…needing one another for absolutely nothing. I want to hear giggling, screaming, or even obnoxious growling and barking! Peace is so overrated! I want to hear family.
I finally get a grip…in a few days or a few weeks or maybe a month or so…they will be back!
And how I pray you can hear all the noise in heaven Terry!
We love you Mercy!