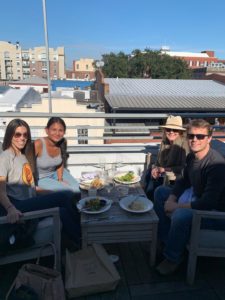 We just spent Thanksgiving without any of the little ones, and it was…um, how do I say… GREAT! We slept in…without guilt. We ate breakfast without sticky syrup for starters. We strolled at our own pace up and down Savannah's streets without saying, "NO!" "DON'T!" " STOP!" or "COME!" a  single time. It was nice I must confess! I didn't lose a sock or shoe, hold a jacket, wipe a nose or a tear. We shopped! Like grownups do! Kelley, Graham, Mercy and me…and then there was Hooch… along for the ride! I'm not sure I have ever "browsed" with Graham before?  We had plenty of time…we could try stuff on! ( Kelley did. I have "fitting rooms" issues). I did buy a hat in a hat store and I don't even wear hats. Then we grazed our way through a unique boutique called Paris Market which features french soaps,  scented candles, antique jewelry, coffee table books, vintage ornaments, art decor, lattes, and fresh-baked pastries. I held up an interesting item in earnest to Graham and said, "What do you think this is for?" He replied with compelling sincerity, "What is ANYTHING in this ENTIRE store FOR?" I couldn't argue. We found ourselves at a rooftop bar and drank mimosa in a blanket of sunshine!
Our tree is up. Lights are on. My stockings are hung. (am I bragging again?) Dogeared catalogs keep piling up on the countertop and researching gadgets and games has begun. We have a Home Goods store, a wine shop, and Southern Baked Pie…It's all going to be just fine! I think I'll join a few friends, count a few blessings and let the young Moms do the shopping! My aim is to focus on being where I need to be. So first thing first…I'm taking Whit, Laney, AK, and Pay Pay to "Elf the Musical" in Charleston Saturday. I did get invited to the SEC Championship the same weekend, but what the what … this girl is gonna go to heaven.
Although the kids and turkey were absent from our travels to Savannah this year and we didn't exactly celebrate in the traditional Thanksgiving fashion, ( actually, I did miss them a little) I do feel abundantly thankful. Mind you, I will seize any opportunity to bitch and complain about the ridiculous and absurd hassles of the Holidays, but you know…I was also thinking…it doesn't hurt to embrace some chaos. I'm feeling a hint of flurry this year. My family seems slightly off-kilter. I admit the uncertainty is intimidating, but the revelation of the future is overwhelmingly welcome. Kelley is striving relentlessly with her new lifestyle. (You've got this Kelley girl, you always have!) Graham and Mercy have entered into new careers and are exploring ideas of where to permanently call home. In the meantime, they adopted the cutest cuddliest little rescue puppy ever named Georgie! (still in training) And finally, Gary and Neil are super excited about the long-awaited much-needed expansion of North GA Labels. (thanks partially to mine and Margaret's exasperated persuasion) The foreseen opportunities and abundance of possibilities make for a bright future.
Grateful.
Be where you need to be… but keep your (new) hat on!
We are going places!