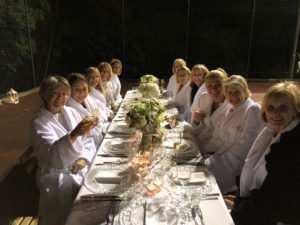 I've been home from the best girl trip of my life for a week…and I'm just now sobering up!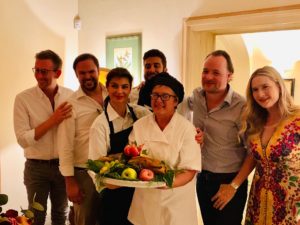 You know when a story begins with, "Once upon a time" you get the strangest sense that "something" is about to go awry for the princess, but you move on raising your expectations and high hopes for the "happily ever after". Spoil alert…That is exactly what happened to me…the happy part anyway! A week ago I was in Italy… a wish… that came true! I'm still under the spell of the brilliant Tuscan sun… and I don't want to wake…not even by a kiss. Dreams really do come true outside of Orlando…and Prince Charming really does exist. I was there… I have proof. He said, (verbatim) "I will do whatever YOU ladies want to do. Just tell me, and I will do everything I can to make it happen". I kid you not. His exact words. I can die now. Our "Prince", played by John Munson, is a 37-year-old young man, not so tall, dark and very handsome entrepreneur/genius. He grew up in my home town, Lakeland, Florida (where he studied impeccable manners). John has a LOT of knowledge about EVERYTHING…and when he is not traveling the world (literally), and filling wine glasses he chooses to roam around New York, where he now calls home.  He has the innate ability to make 10 women happy all at once day after day. It's a gift. Girl-friend, this is my real-life, once in a lifetime, once upon a time fairy-tale that took place in Tuscany. Pinch me.
This tall tall tale began, with a phone call from my sister (not "step" as in Cinderella, but… the pretty, slim, rich one), asking me if I would like to go to Tuscany, Italy with her in September. I said, "Uh-huh"! And so this fable began…I didn't make a single decision after that. Not one. My ticket, my villa, my robe not to mention my slippers were arranged all for me. Our facials, our tours, the food, and a BC powder delivered on a silver platter. I didn't lift a little finger. I don't remember pouring myself a single glass of wine. (or 2 or 3 or 23… I don't recall a lot, it happens!)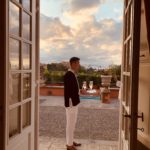 Prince John, Prince Mack, and Lady Kaley were incredible and effortlessly made many miracles happen magically!
You may (or not) be aware…I'm "almost" famous for my cheese wafers but also for being involved with organizing a few spectacular "girl trips" along the way (whereas I'm most commonly known for driving my ass off for a glass of wine) but this spellbound holiday took "girl trip" to a whole new level…this was designed for "already" famous people, not for nine old-school Florida gals, and ME!
We were called to gather at sunset only to find our table lavished in glowing white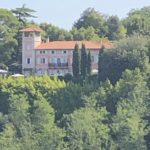 candlelight that would make a bride blush with pride. A bounty of local flowers cascading the tabletops, sparkling glasses clanking while frisky tunes played somewhere in the background causing "a few of us" the need to show off our swag. But the most magical gift of all was laughter. Endless laughter, bottomless inside jokes (tootles asshole) and gratifying cheers!  Yet some of the "stories/secrets" that had somehow remained buried deep throughout decades of intimate friendships trickled out…I dare say…fantasies… of Ed? (Ewww!!!!)
I will reflect on my trip to Tuscany forever. I will always remain homesick for my Lakeland friends, and I will be forever grateful for my sister and the call she made that day asking me if I wanted to go on a trip of a lifetime with her.
My hope is that I never stop going somewhere for a glass of wine…You are all worth it!
Sir John called us, a bunch of "well to do" ladies. I've never been called "well to do" before…and it's not likely it will happen again, but I kinda like it…
I do it pretty well!