Footloose and fancy free…well that's not exactly me! I aspire to be a free spirit and adventurous like my friend Susan. Susan is hiking to the base camp of Mt. Everest (as we speak). We can all concur that this is not the same struggle I encounter when walking up Whiteside Mountain in Highlands, NC., y'all! She has two SHERPA's, a guide, and her son with her. She won't have to carry her supplies but she will be hiking 6 to 10 miles a day in altitudes only airplanes should go. Dadgum it,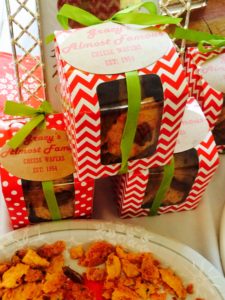 I need Sherpa's to carry my water bottle walking on the beach.
Whatever it takes to compel you to leave your "circuit of comfort" is what I always say. Once I ate lunch all by myself. I know, Bold move!
Margaret (my d-inlaw) and I had a booth at the Market Place last weekend. She sold her sweet "Angels with an Attitude", and I sold my Almost Famous cheese wafers. A potential major oversight because there was a bunch of art and believe it or not I was not the only cheese lady! Putting it all "out there" for the world to see was intimidating. Not so much for Margaret and her stunning ornaments, but for me…watching all the pretty ladies skirting about our booth while taste testing my wafers was excruciatingly awkward. I learned it's far more comfortable and attainable handing out cheese straws as a freebie to my friends. (perfect re-gift gift)
I'm curious what tight rope will I step out onto next?  Nepal…probably not in the crystal ball, but forever tip toeing toward a ledge. It is a constant, for all of us, to be traveling through unknown territory either by choice or by force. I'm in awe of Susan and Eric. A magnificent Mother and Son team who are never afraid to fly over the rainbow. I'm in awe of bravery of any kind and a lot seems to be going around right now. Times are not simple. Harder than ever. Writing a blog when there is so much uncertainty and tragedies surrounding our hearts is not easy.  We climb mountains when we must and will forever and for always take hold of a fearful hand…
and I'll be happy to make you some cheese wafers.