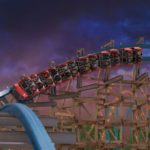 I have always had an insane passion for roller coasters. Not just as a child…I would leap right on one right now. Oh crap, never mind, I'm already in…with my hands lifted high in the sky!
You know how they start out unhurried and deliberate… shuffling slowly as if postponing to reach the clouds. Then suddenly, there's the one second pause of anticipation, while towering on top of the world before you plummet back to earth, holding on to faith, joy, and fear.
Papa Lou is very sick right now. My Dad can barely walk.  Gary has prostate cancer, and let's just top this scenario off with Janis, who does my hair, is having surgery and can't do my hair…F-me!
Callie Chester, (my niece in law) gave birth to her beautiful miracle baby girl last night.  Kelley and Mercy have exciting new jobs. It's almost Annie Kate's 5th birthday, and I got to go to Italy.
We desperately need the house painted. We've got a ton of repairs, and we must purchase new gutters ASAP!
But…I'm going to take Annie Kate and Payton to Charleston to see the play, The Little Mermaid, with Whit and Laney. We will swim one more time before fall, and I will have all four for a sleep over…YABBA DABBA DO! (Trying to envision positive sentiments about this little endeavor…no doubt demented)
They say when it rains it pours…I feel blessed and humbled that I don't live in Texas today. When the glass  is half empty…reach for your Chardonnay. When life gives you lemons…make a lemon drop martini. You get the image, put your big girl grannie thong on and let Jesus take the wheel.
If I tell my Grandson we are "about to go somewhere" (i.g.,Target), he will not stop begging to "GO" until we are IN the toy department at Target. His inpatients is relentless. Santa Claus, himself, couldn't shut Whit up! I don't know why waiting to see "what's in store" or "around the corner" is so difficult. But it is. I don't know why convincing us to believe "things are going to get better" or "things are looking up" is so impossible. But they are. "Living in the moment" or "Being present" shouldn't seem presumptuous. But it does. It's all hard.
I believe in fortitude and backbone. Patience may have to wait for another day or two. Right now…I want Lou to be well. I want Gary to have a fast recovery. I want prayers answered for every one! I want stamina like Whit, and a girl trip! I've got the moxie for this Twisted Cyclone roller coaster ride… Bring on the good, the bad and the ugly!
The Yin and the Yang…
…and then there is me!