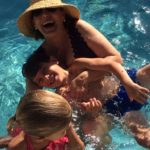 I bought a bathing suit. I guarantee you I did not intend this tragedy to happen, bu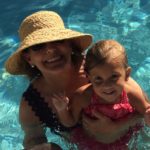 t there is a slight possibility I will have to wedge into one this summer in order to swim, and I'm afraid there is no alternative to this brutal situation. (for those who may witness this obscene spectacle…I profusely apologize!) The good news is that I bought the matching cover-up…(attempt to conceal embarrassing or scandalous information). One easy peasy sale for the sales clerk, but the cover-up bears the duties of our National Guard. OK, this isn't exhilarating nor necessarily pertinent info but the experience definitely generated some PTSD for me…(symptoms may include disturbing thoughts, feelings or dreams) Seriously, no kidding. On a more positive note, there is no chance in hell that this event will ever take place again because acquiring another spanking-new bathing suit is off the radar… forever and ever …AMEN
Permits for purchasing aquatic wear should be federally regulated…privileges such as this should not be taken lightly. Drag me out by the ankles, like a United Airlines security agent, if I ever walk into a situation where the apparel has built in panty liners. I don't trust an establishment that theorizes that a sharks tooth accessory around your neck distracts from the grotesque abundance of cellulite around your thighs? Why can't they empathize? I'm in acute discomfort from fruitless attempts of holding in my stomach. One may ponder… which roll am I struggling to reel in? That would be…um all three!
Undoubtedly I found a purpose for inflicting this theatrical drama upon myself. What doesn't kill you makes you stronger… We grow from pain and suffering, and look at me, Kelly Clarkson, I have a shot at it now. I am called to don my eggplant (a new spring color line I was told), rica-rac trimmed armholes, tummy controlled piece of spandex. My purpose or my remorse? Whatever… I hear a voice. The voice is calling me, but it is coming in the form of a sharp shrill. A small minion with a boisterous voice is crying, "Watch me, watch me! Watch this, Gracy"! I see the face of an angel… diligently holding their breath crawling through the water like a turtle scrambling towards a stone, grasping enough air to plunge themselves into my arms. Proving to me, like a magician, that they can perform miracles. And I believe. If I could only transform that twinkle of magic into my own eyes. That fearless wonder…and man, what a few hundred dollars worth of swim lessons can teach kids!
A miracle…(wonderful, surprising event) another summer!