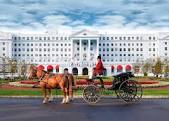 It seems like everyone is at the beach today, but me. It's really hot and I would like to be somewhere right now with a warm breeze, holding a cold Sea Breeze. I have to be patient, and stay focused on my Netflix for another month, because my vacation isn't until late July. I'm looking forward to it, but must admit, I am a bit nervous. We will be celebrating our 40th anniversary at The Greenbrier Resort in West Virginia! How about that …fancy smancy stuff. If someone told me I would be going to the Greenbrier for my 40th wedding anniversary I WOULD have believed it. I believed in Shangri-la when I got married. It was a notion…  I was 21.
14,600 days and nights ago, I walked down the isle, just as all brides, with hopeful expectations, and newlywed anticipations of a dog, a house and a child or three. I had little fixation on bling and things. Places like The Greenbrier, The Breakers and Paris were off my radar!  Now, I wonder…can I handle it? They are going to have white table clothes,(not Gary's first choice in"the dinning experience") waiters that walk up to your table for no apparent reason, the parking garage fee cost more than a new kayak, and Gary has "less is more" in his DNA! Actually, we have traveled to a couple of exotic places… thanks to Graham! We followed him around Verona, Buenos Aires, Fiji, even Iceland, but not one of these trips were touristy or had toiletries! More than once, I have had the pleasure of sleeping UNDER the stars, but this is my first five star!
Another enigma… our marriage has survived! In our early years, we were not betting on it either! Our secret is no secret…be funny, be friends, and basically just don't get that divorce…it works! Bizarre huh? Just like the two of us heading off to a resort that features three 18 hole championship courses, three putting greens and we don't play a bit of golf!
You gotta make it work… and worth the effort! I'm certain I won't be ordering room service. As far as the monogram bathrobe hanging on a wooden hanger, plush white towels stacked to perfection, and mints laying on our pillow tops will be irrelevant to the groom. There will be no snacking from the minibar and a mini bill at the pool bar. The spa will not be accessible but the work out room is certainly attainable. I will be hiking, biking and rafting…sounds dreamy to me! This summer, I am privileged to go to one of the more grandiose, Historic Landmark Resorts, where self indulgence is the agenda … so trust me when I say… I am looking forward to this swanky Shangri-la, taking with me the same enchanted notions, facing potential challenges at this little INN as well as the greater paths along the way.
…It's been worth every dime!
40 years ago I believed anything could happen, and now I am sure of it!