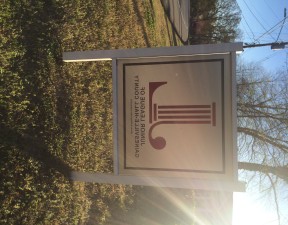 A few weeks ago Gary said I have a blog idea for you. Unaffected by my silence he went on to say you should write about how important it was for you to get accepted into the Junior Service League of Gainesville. This was a hilarious topic to him because he knew it was not just "important" …my ENTIRE self worth depended on it.
Yesterday at church our minister was giving a sermon on rejection and how it effects your self esteem. (I know…me…church? It was Easter….so there you go) That's all I remember as my attention span suffers tremendously when I am forced to listen to others. I immediately started day dreaming about myself, my rejections, and trying to reflect on how young I was when I became aware of the fear. I think by the first grade I decided to veto this disease (a reject) at all cost. 
I was and still am "The cheerleader that never was". My one and only hope and dream I had as an adolescent was to be a cheerleader. I cartwheeled all day every day. I practiced my "jumps" in front of the mirror relentlessly and dreamed only of pleated skirts and v neck sweaters. I had a passion, and as sad as this story is… it only gets worse.
I wanted to be popular. Well, let me explain. If you aren't smart…you need a backup plan…and mine was to try to be "liked"…with a key focus on one particular boy.  You guessed it…I have another rejection story. It is a sad tale of a young boy and a wavering young girl. His name was Tommy, and you are all more than welcome to read the journal of this longing 15 year old, and her desperate attempt of making someone "like" her! "The love story…that never was"! End of story. So I grew up (kinda) and moved on. Married young, and moved to my husbands small quaint home town in GA…and found myself on a massive man hunt…for girl friends.
This is where you think, boy I should go get more wine and grab a tissue…but spoil alert….this story has a happier ending. I set off on my journey to make some bff's. It took some time. I had a job, so I couldn't just jump right into the cool crowd. No…I had to work it. To be "accepted" by homey's is no cake walk (even at Enota Elementary school)… and it's not just here…it's hard everywhere, but I was ambitious and this was going to be my REAL JOB! I joined a Methodist Women's group and other clubs, played bridge (not easy when you are not accustom to counting), and went to LUNCHEONS wearing PANTY HOSE! I did it all in the name of the Junior Service League of Gainesville, GA! I did it in the name of having a sense of belonging. Well, I won't keep you guessing a minute longer from this profound cliff hanger…I realize how agonizing this story is becoming….
I GOT IN! 
I made it. I was not rejected and I had  friends. Yes, it was a happy day. Yes, you can laugh now… because I know how ridiculous this is. I'm laughing with you…at me.
The feeling of BELONGING is what I was looking for and needed. (not a club with a president, secretary and treasure)  I'm afraid this will always be my job. It makes my soul whole and my spirit rise. I find security in my friends and a belonging.
Rejection is awful. I have had the fortune to experience much smaller doses of it than I deserve. My desire to be liked is not a mistake. I understand it is not an achievable goal to be liked by the vast majority…(I know…that sucks) but I am simply in awe, bewildered, and perplexed by the gift of the most incredible awesome people that have been in my life, that are in my life, and will become a part of my life. You are me…and it makes me want to do a cartwheel!
I get it now.
Getting IT…is far far better than getting in, but it all feels good!
Meeting is now adjourned,
Madame President…. of the LOVE CLUB