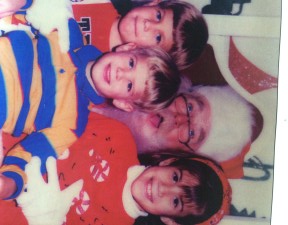 I have to say, the "season" has NEVER brought out the best in me…until this year.
I know I'm horrible at making it all come together by 7:30 am December 25, with decorations, unwanted gifts and mouth watering whatever, so it sends me over the edge! I may be… NO, NO, NO… I AM, the worst "shopper" in the universe! I hate shopping, and the only thing I hate more than shopping is shopping for relatives! I am confused and bewildered, that people enjoy this time of year. Mall's frazzle me, online shopping… r u kidding me and I can't even talk about black crap Friday. It's work, it's expensive and I don't know how to buy happiness!
Searching for the perfect robe and slippers (that never fit) is a nightmare. Should we get earrings or bracelets this year…what did I give last year…No clue? Scratchy flannel things for the men ….AGAIN, and EVERYONE gets a Keurig! I try.
Our house will never resemble a holiday from a Publix commercial (the best commercials ever btw). Gary and I will argue about a tree, complain about heavy boxes, tangled lights and money.  We don't typically put on our scarves and gloves to go caroling, or wear matching pajama's, but this year is going to be different!  This December we will have a Christmas that all families pray for. We will be celebrating miracles! Parents and their health. Grandchildren that are rambunctious, loud and happy, and family.
This year we will be celebrating Christmas with our three children. Our daughter and our two son's will be together for the first time in a year and a half. Way too long for any Mom! I will have a tree, a wreath, and maybe a toy or two. This year I am ready! This year…God has filled my heart with His love, joy, wonder and no doubt laughter…  Tis the season…to be with my children.
I have love all wrapped up!
Welcome home, son!
All anyone wants from Santa is a puppy!