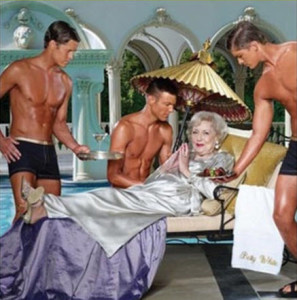 In order to be the best person you can be…you need to hire someone.
Why in the world would anyone strive to be low maintenance is beyond me! If I can afford it, I'll let you do it!  Getting older is the wisest thing I have ever done, and letting someone smarter than me, do things for me, proves it.
I'm lazy, but this isn't about my inability to get dressed before noon. I'm talking about  the lack of interest I have in vacuuming, grocery shopping, and learning what new apps are on stupid smart phones! I don't have window treatments because I don't have a "decorator". I know I'm not in shape, but that is because I don't have a "personal trainer", and who in the hell would have a pool with out the "boy"?
I need to be maintained! Most people have someone cut their hair for them, without guilt, or get the monthly mani/pedi without blinking an eye. Come on now, tell the truth…if you could blink an eye…AND … your closet is clean, your car is filled with gas, and your dog and plants could feed themselves…. wouldn't it make you…a better you?
My sister said, " I work harder than anyone I know! Just ask my housekeeper!" (True story!)
I'm proud to be… a high maintenance wanna be!