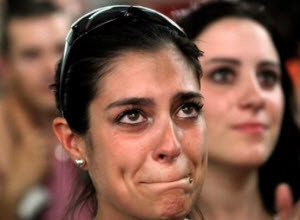 I am the happiest when I'm crying.

I don't want to go to a movie theater and come out with a dry eye. I don't want to hear a song that doesn't break my heart in two. If I go to church for a Sunday sermon, or a good friend's wedding, I want to use my kleenex over and over again, and a book is not a "good book" if it doesn't bring me to my knees. I just love to cry.
I have had a few things happen in my life to feel sad about, which is the complete opposite of my happy cry. (You know, those times, when there is just nothing to laugh about…I'm much happier when I find something good to cry about!)
I like to cry when I catch someone winking at a person across the table, and they didn't think anyone was watching. I like to cry when my Grandchildren hug me goodbye, and say, " will you be back"?
I always cry when I'm telling someone I'm sorry, or like the time I was toasting my niece at her bridesmaids luncheon, and of course, I cry, when I'm missing my son that lives too far away! I've been known to cry when I have had too much to drink. (Thank goodness, I don't usually recall what brought me to tears!)
My favorite cry, is the one that comes out of nowhere…the one that is totally random…and it catches you completely off guard! Just when you're thinking…I have nothing in the world to cry about…it appears.
BTW, if you ever even think about crying in front of me… I will be right there with you… from the get go! Game on!
If you catch me crying, please know how happy I am, and thank you, for allowing me the pleasure of my salty, sobbing sweet tears. For crying out loud…doesn't it feel good!